What we offer
We provide a wide variety of professional development opportunities for the whole school team – from newly qualified teachers to governors, teaching assistants to leaders.
Our offer is tailored to the needs of local schools.  We look out to draw on the best of national research and thinking to shape bespoke programmes which meet local needs.
Because our development programme is delivered by schools, for schools, we are able to keep our costs to the minimum to provide a cost-effective option for career development.
---
EAL Network 
Date: Tuesday 5 th December 2023
Time: 4.00pm - 5.00pm
Location: Newby & Scalby Primary School The Green,
Newby, Scarborough, YO12 5JA
The network will focus on the following:
Assessment
Top Tips
Good Practice (Photos)
Places are FREE for members of Scarborough Teaching Alliance (3 Places per school - £50pp thereafter) and £60pp for non members.
For more information on the EAL Network or how to book your place, click here
---
KS2 / KS3 Transition Network Meeting
This year the meeting will be held face to face at Newby & Scalby Primary School, however there will be the option to attend virtually.  To confirm your place - click here
Once your booking is confirmed, the meeting details, along with the relevant transition documents will be sent to you.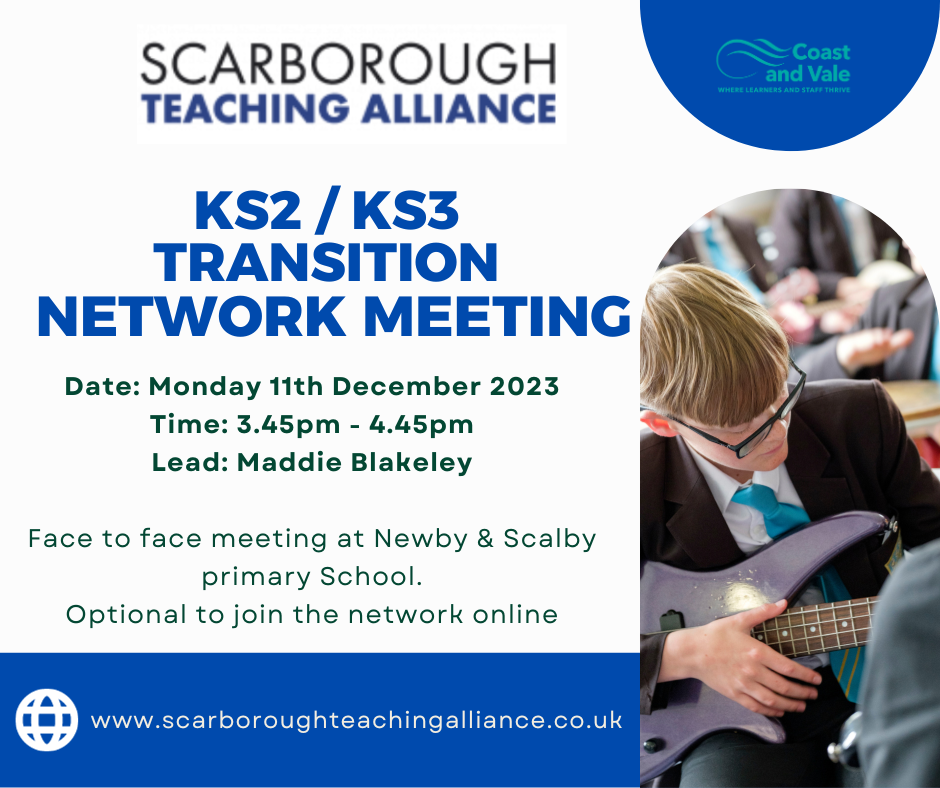 ---
SLT Network
The dates for this academic years Senior Leader Networks are as follows:
11

th 

January 2024

7th March 2024

2

nd

 May 2024

4

th

 July 2024
For more information regarding SLT Networks or to book your place, please click here
---
Adaptive Teaching : Meeting the needs of students with SEND
This programme will aim to empower teachers to embed a range of strategies which specifically target their students with SEND. There will be a focus on the most common conditions seen in students with SEND in mainstream education: dyslexia, autism spectrum condition, ADHD and speech and language conditions. The first session will be delivered in-person by the organisation Whole School SEND. The session will review the SEND Code of Practice and other resources, and provide training on each specific condition. Delegates will apply practical strategies from the programme to either a class or selection of students identified within their school. In the remaining sessions we will focus on a carefully selected range of classroom strategies. Each session will host expert colleagues who will draw upon experience and a solid evidence-base. The 'buddy system' will allow delegates to nurture opportunities for collaboration, coaching and accountability. Delegates will trial a small sample of these strategies specifically targeted at their chosen class or student(s). The programme will provide targeted and precise strategies which are best suited to meeting the needs of their individual students. Suitable for The programme is designed for all primary and secondary school teachers. We will be using the 'buddy system' which means delegates will be partnered with someone working in the same phase as them. The programme will be delivered by experienced and highly trained facilitators.
        Dates:
7th December 2023 4.00pm-6.00pm
29th February 2024 4.00pm-6.00pm 13th
June 2024 4.00pm-6.00pm
Newby and Scalby Primary School, Scarborough, YO12 5JA
To find out more information - click here
To book your place - click here
---
HLTA PREPARATION FOR ASSESSMENT PROGRAMME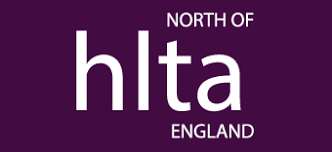 This programme prepares candidates to be assessed against the national HLTA standards, leading to the award of HLTA status. It is intended for teaching assistants who are already demonstrating high levels of capability and who are seeking to develop themselves professionally. It focuses specifically on how to present evidence of current practice in order to meet the national standards.
To support candidates in gaining HLTA status, the course provides preparation for statutory assessment. Candidates will attend four full face-to-face days over the duration of two terms. These four full days will focus on preparing candidates for assessment and how to present evidence to meet the national HLTA standards. There will be two optional self-study sessions available in addition for candidates to support each other and collaborate.
Eligibility for the Programme
In order to be eligible for the programme and for HLTA assessment, applicants must: - be employed in a school - have the full support of their headteacher - attend all mandatory sessions - have appropriate level 2 qualifications in English and maths (GCSE grade C or above or an equivalent qualification) Original certificates for the Maths and English qualifications will need to be provided by each participant once an application form has been issued by us (before day 1 of the course). If these are not available, we recommend applying to the relevant awarding body for copies as soon as you have requested your place on the course. Applicants without Level 2 qualifications can be offered HLTA entry tests. 
The next programme will start in 2024
To express your interest - click here

For more information - click here
---
PREVENTION AND MANAGEMENT OF CHALLENGING AND HAZARDOUS BEHAVIOUR, DISENGAGEMENT SKILLS AND PHYSICAL INTERVENTION SKILLS
The course focuses on restraint reduction, primary and preventative strategies for the management of disruptive and challenging behaviours. It also covers positive responses to physically challenging or hazardous behaviours
Programme Structure: Day 1 = Theory, online (30 day window to complete) Day 2 = Physical skills, Classroom 9.00am-4.00pm
All staff should complete the Theory prior to Physical Intervention Skills.
• £120.00 per person, per setting in Scarborough, Whitby and Ryedale including Coast and Vale Learning Trust Schools.
For more information - click here
To express your interest - click here
---
CHARTERED COLLEGE OF TEACHING
SCARBOROUGH TEACHING ALLIANCE AND COAST AND VALE LEARNING TRUST ARE WORKING IN PARTNERSHIP WITH THE CHARTERED COLLEGE OF TEACHING.
Over the past few years Scarborough Teaching Alliance and the Chartered College Of Teaching have worked together to proivde the Chartered Teacher Programme for local colleagues and we are happy to report 100% success rate.
For more information on this programme - click here
To express your interest - click here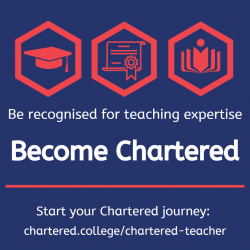 ---
---